dadadans
is looking for partners to co-create
CIRCUS LONELINESS
by exploring the theme of loneliness together.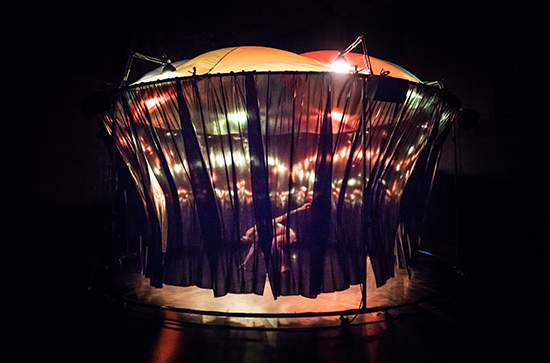 WHAT IS CIRCUS LONELINESS?
CIRCUS LONELINESS is a traveling choreographic show that takes loneliness seriously and reflects on it as it is – a condition that does not require (more) quick solutions, but long-term, empathetic attention. Sensitively and with humour the show dissects loneliness and lonely people.
CIRCUS LONELINESS is staged as a fairground consisting of many different attractions and installations amongst which the audience moves sometimes freely sometimes directed. The fairground is different in every location, because it is constantly transformed by the local community's input. Their perception of loneliness is gathered through a series of workshops and woven into the performance.
Loneliness is a condition that comes in many different shapes, and that few people can avoid during a lifetime. Loneliness knows no limits, it can creep up in the midst of a crowd or while sitting alone in the living room. However, we don't talk about it. Loneliness is the last taboo.
CIRCUS LONELINESS grabs hold of the taboo and of the people behind the impersonal statistics on loneliness and makes them tangible, physical and alive, by offering the audience a sensual space filled with the concealed and neglected loneliness of daily life.
"I am not afraid of dying. I am afraid of being lonely for the rest of my life."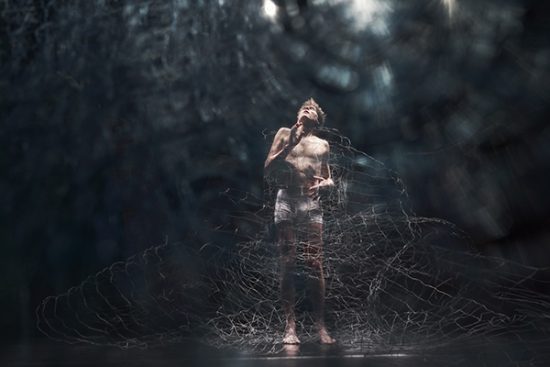 CO-CREATION PROCESS
How do we shape CIRCUS LONELINESS together?
dadadans has been working for four years with the issue of loneliness and its impact on the individual and society. We come to each partner with a bag full of choreographic and installation materials, a catalogue of building blocks that helps co-create a unique CIRCUS LONELINESS with each location.
In collaboration with each partner we run workshops with the local community, exploring with the participants the theme of loneliness and what it means to them. The expressions of loneliness generated through the workshops – be it installations, video, masks, dance and maybe something we cannot even imagine right now – are then merged with some of dadadans' pre-existing materials to create together our unique CIRCUS LONELINESS.
It is the workshops' results that determine which of the catalogue's building blocks we are going to use in each final show. And this is why each CIRCUS LONELINESS is unique, as it grows out of the relationship dadadans has established with each partner and its local community.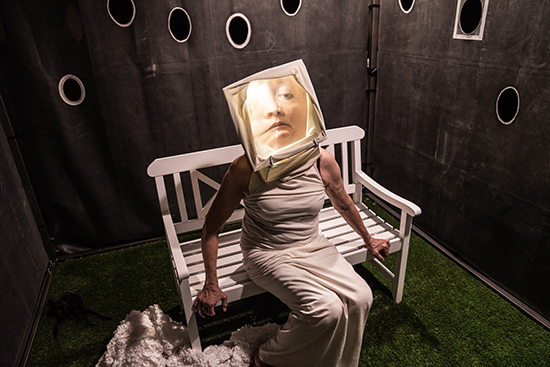 THE WORKSHOPS
Participants of the workshop can be determined by each partner – it could be performers, filmmakers, installation artists, professional or amateurs, people working with visual expression, people simply interested in exploring the theme of loneliness or even a group that has a work relation to loneliness such as volunteers or social workers.
The content and length of the workshops, as well as the number of participants, is to be negotiated individually with each partner in relationship to the nature of the group involved.
We've had good experience with engaging in dialogues with relevant NGOs, opening up to new audiences and lines of engagement with society at large.
It's important to note that CIRCUS LONELINESS is an artistic interpretation of loneliness, the workshops are not therapy – we are artists not counsellors.
THE 'CATALOGUE'
dadadans' contribution to CIRCUS LONELINESS stems from the company's research in to the anatomy of loneliness since 2016.
Our catalogue of building blocks consists of selected elements from the solo ANY ONE (can be lonely), the site-specific installation PEEP SHOWS and the installation performance PEEPS – peepshows about loneliness and lonely people
Peeps – dadadans (Documentation – August 2017) from Bora Bora on Vimeo.
PEEP SHOWS consist of 5 site- specific installation/peep shows on Aarhus' pedestrian street. PEEP SHOWS is a precursor to PEEPS and helped us study how people move between the different installations
Aarhus Festuge, September 2017
EN SOM HED_teaser_oct.2017 from dadadans on Vimeo.
ANYONE (can be lonely) is one solo consisting of 5 self contained physical monologues – portraits of the masks we put on while dealing with and reacting to loneliness. This is a piece about how it is not to be a hero, not being able to find a way out. The portraits have also been used individually in connection with talks, happenings and discussion forums on the subject of loneliness at the University, in churches and so on.
Premiere October 2017 – Tour February 2019
DADADANS-PEEPS_trailer_LONG from dadadans on Vimeo.
PEEPS – peepshows about loneliness and lonely people invites the audience into 5 live installation/ peep shows. The peep shows are inhabited by individuals bravely struggling in solitude against isolation. The spectator is invited to peek into intimate spaces filled with embarrassing and unmentionable feelings like emptiness, despair and desperation. The audience can walk freely between the peep shows, but they are not participants – they are moving spectators that can choose how to move around but are at the same time offered safety in a story and a journey with a direction.
Premiere September 2018
PEEPS _ documentation video full performance from dadadans on Vimeo.
THE AUDIENCE
THE ROOM